$57,500 OTF Grant supports development of Township's Strategic Direction on Parks and Recreation
On Thursday, MPP Lisa Thompson had the opportunity hear about the difference that a $57,500 Resilient Communities Fund grant awarded by the Ontario Trillium Foundation (OTF) has had for the Township of Ashfield-Colborne-Wawanosh (ACW). The grant, awarded in 2022, has been used by the Township to create a strategic plan to guide the future development of public parks, trails, facilities, and recreation programs.
"Investments like these from the Ontario Trillium Foundation are valuable because the Township of Ashfield-Colborne-Wawanosh now has the opportunity to work with local communities and residents to identify priorities as well as targeted goals and actions," said Lisa Thompson, MPP for Huron-Bruce. "Supporting the development of a strategic plan to guide the municipality's future developments is very important and I hope everyone appreciates the opportunity they have to engage and participate."
Thanks to the grant from OTF, ACW has now developed a 10-year parks and recreation strategic plan to address the need for recreation programs and events, facilities, parks and trails, and their delivery to ACW residents, until 2032. The strategic plan will support staff and Council in making decisions regarding investment in recreation infrastructure and enhanced programming to improve the health and sustainability of the community.
"The impact of this Ontario Trillium Foundation grant cannot be overstated," said Mayor Glen McNeil, Township of Ashfield-Colborne-Wawanosh. "It has allowed ACW to develop a strategic plan that is vital to our recovery efforts and will help us best respond to change and implement new strategies. We also want to congratulate the Ontario Trillium Foundation on 40 years of granting and building healthy and vibrant communities across the province."
The Ontario Trillium Foundation (OTF), an agency of the Government of Ontario, and one of Canada's leading granting foundations celebrates 40 years of grantmaking in Ontario and making a lasting impact in communities. Last year, OTF invested nearly $209M into 2,042 community projects and partnerships, which included funding for the Government of Ontario's Community Building Fund. Visit otf.ca to learn more.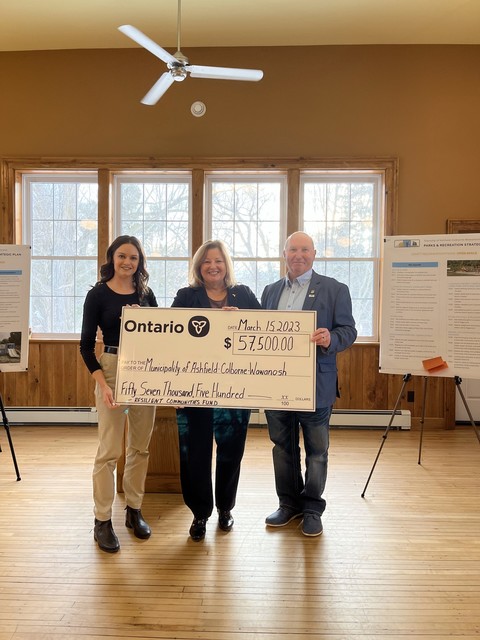 -30-
Organization Contact for Media Inquiries:
Kaitlin Bos, Deputy Clerk / Communications Co-ordinator
Township of Ashfield-Colborne-Wawanosh
(519) 524 4669
communications@acwtownship.ca
Get In Touch